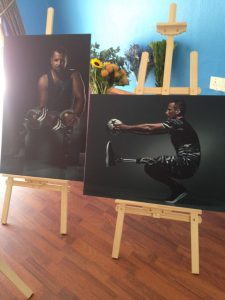 14 September – opening of the exhibition "The Victors" during the celebration of Ukrainian Independence Day at the Embassy of Ukraine to South Africa. The project "The Victors" was created to support psychological rehabilitation and reintegration in social life of people with disabilities all over the world via sport. The photographs present the exceptional human abilities of those who lost parts of their body but have not lost their strong spirit.
The exhibition consists of 17 photos of Paralympians, veterans, volunteers of Anti-Terrorist Operation in Ukraine (ATO) who despite being amputees have become sport role models. The photos were made by well-known artist Alexander Morderer.
Photo project "The Victors" allows many people to be inspired by sport and to change their perception of disabled people.